Asbestos Services
At Hillmann Consulting, LLC, we specialize in doing work in high-end hotels, high-rise office buildings and residences, retail spaces, private schools, and hospitals. While NYC represents a major market for asbestos-related services, we perform these services nationwide. Each of our offices is staffed with personnel who are appropriately certified/licensed to perform asbestos services in that specific geographic location. The US EPA requires that any building, or portion thereof, which is to be renovated or demolished, undergo an asbestos survey regardless of age. Many jurisdictions require specific licenses and certifications in order to conduct this work.
CERTIFICATIONS
NJ Asbestos Safety Technician (NJAST)

Registered Environmental Property Assessor (REPA)

Certified Site Surveillance Technician (CSST)
more
Asbestos Project Monitor

Licensed Asbestos Inspector

EPA AHERA Certified Asbestos Inspector

EPA Certified Asbestos Management Planner

EPA Certified Asbestos Project Designer

NYC Certified Asbestos Investigator

Asbestos Air Sampling Technician

California Certified Asbestos Consultant (CAC)
more
Asbestos Services:
Asbestos Surveys
Asbestos Operations & Maintenance (O&M) Programs
Invitation for Asbestos Bid Document
Third Party Asbestos Abatement Air Monitoring
Hazardous Materials Surveys
---
NYC Asbestos Services
We specialize in asbestos projects based in New York City, which requires that a certified NYC DEP Asbestos Investigator performs an asbestos survey of any space that will undergo renovation, demolition or tenant buildout. Our Union, NJ office maintain a team of 9 full-time NYC DEP certified Asbestos Investigators who are on-call 7 days a week with the ability to issue ACP-5s as needed by our NYC clients. Our team is experienced in turning these documents over expeditiously, typically within 24 hours of receiving lab results, scope drawings, and PW-1 forms. We also have 12 full-time NYS DOL certified Asbestos Project Monitors that can respond to even the most urgent abatement air monitoring requests. At Hillmann, we don't use 1099/subcontractors to do this type of work because we believe in consistency. The only way to get consistency is to hire and retain quality staff.
NYC DEP ACP-5 FORMS
The New York City DEP, in conjunction with the Department of Buildings (DOB), requires ACP-5 forms to be filed for any space that will undergo a renovation, demolition or tenant buildout. Only an NYC DEP certified Asbestos investigator can file an ACP-5 form. Hillmann specializes in processing ACP-5 forms expeditiously, typically within 24 hours of receiving lab results, scope drawings and PW-1 forms.
Each of our office locations has a dedicated team of professionals appropriately licensed/certified in their specific region to perform Asbestos Services for our clients nationwide.
---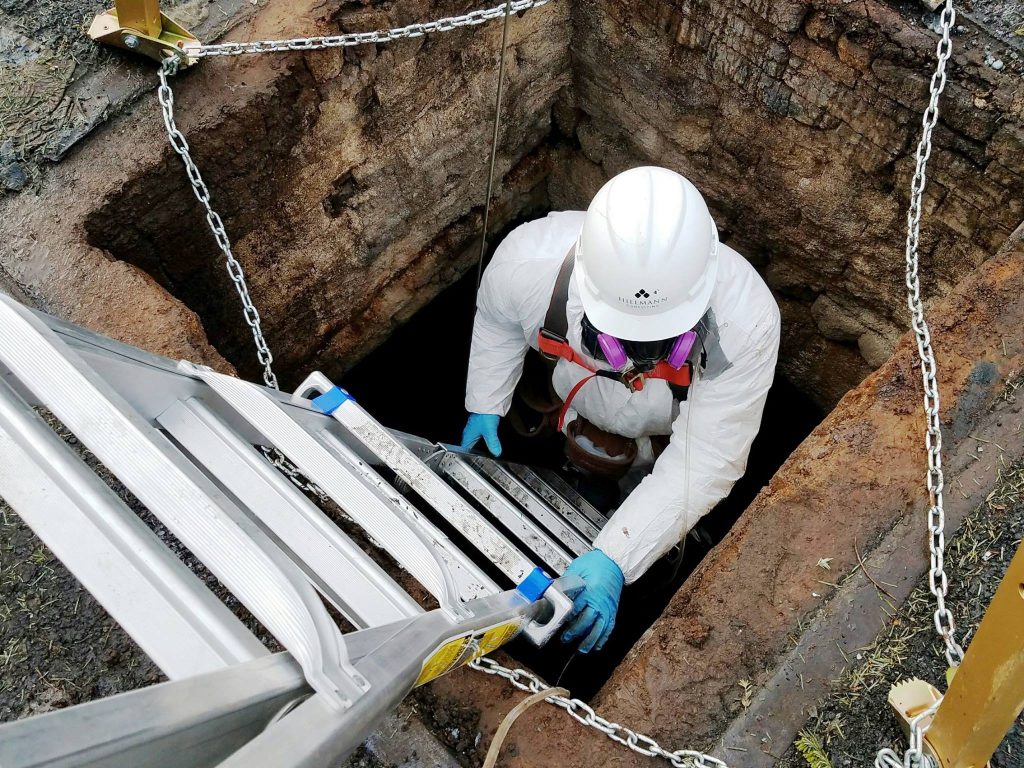 Our team preparing to conduct an asbestos inspection of a decommissioned garbage incinerator in Mamaroneck, NY.
Frequently Asked Questions About Asbestos
Please visit our Asbestos Q&A post to view a list of Frequently Asked Questions about Asbestos.
Asbestos Surveys
Hillmann maintains a staff of seasoned asbestos investigators and inspectors who have an unrivaled knowledge of the regulations that govern asbestos in any geographic region nationwide. Our team performs surveys to observe, identify, quantify asbestos containing materials (ACM). We understand the importance of response time, discretion in our activities, and accuracy of deliverables. Our report findings are thorough and easily understood with recommendations for how to deal with any identified ACMs. We work with your team of Architects, Engineers, and General Contractors to achieve your project timeline and budget goals.
Asbestos Operations & Maintenance (O&M)
Hillmann creates Operations and Maintenance (O&M) programs as a means to inventory and manage asbestos materials in place. The O&M program is a documented program consisting of training, clean-up, work practices, and surveillance in order to maintain asbestos-containing materials in good condition. The goal of the program is to minimize occupant exposure to asbestos fibers. The O&M is primarily for owners and managers of office buildings, shopping centers, apartment buildings, hospitals, and similar facilities that may be constructed with asbestos-containing building materials. It provides building owners, managers, workers, and other key building staff basic information on how to develop and carry out O&M programs for managing asbestos in place.
Invitation for Asbestos Bid Document
When asbestos is identified within a building, many clients opt to have the material abated. Hillmann's professional team can create a site specific Invitation for Bid (IFB) document which details information about the location, condition, quantity and type of any asbestos-containing materials to be removed. It also contains client specific procedures and requirements for bidding on the project. This document is used by abatement contractors as a guide for materials to be abated and ensures 'apples to apples' bids for comparison purposes.
Third Party Asbestos Abatement Air Monitoring Services
Hillmann performs asbestos abatement project and air monitoring to ensure the complete performance of the project specifications in a cost effective, safe manner that is consistent with government rules and regulations. This service protects building occupants, abatement workers, and the public from asbestos hazards and keeps building owners and property managers in compliance with applicable regulations.
Our goal is to quickly identify and correct any issues common to an abatement project before they impact safety, productivity or budget. Hillmann provides value to projects by continually seeking the most effective methods for remediation that best serve our clients' needs.
Hazardous Materials Surveys
The demolition of any structure requires the identification and removal of hazardous materials to prevent occupational exposure, and to ensure proper disposal of these materials. Hillmann performs Hazardous Materials (HazMat) Surveys for pre-demolition, renovation and expansion projects. These investigations are typically performed for full floor or building demolition to locate, identify and quantify Asbestos-Containing Materials, Lead-Based Paint, EPA Classified Universal, Radiation Sources, PCBs, Ozone Depleting Substances, and Fuel.
The comprehensive survey provides property owners or developers with an inventory of hazardous waste common to a wide variety of structures. An accurate budget can then be forecasted for demolition and abatement activities, and to avoid RCRA liability by ensuring proper disposal. It also ensures that building occupants and employees are protected from potential environmental hazards during demolition and abatement.
Hillmann can develop and provide Specifications and Bid Documents for an abatement program of any hazardous materials affected by proposed construction. Hillmann also performs all necessary monitoring and coordination during the abatement process to insure compliance with the specifications and regulatory compliance with all NYC DOB, DEP and other relevant city, state and federal requirements.