Industrial Hygiene/ Occupational Safety
Workplace Safety, Occupational Health & Wellness
Hillmann Consulting is committed to anticipating, recognizing, evaluating, and controlling workplace conditions and hidden hazards that may cause worker injury or illness. Our goal is to assist employers in providing a safe and healthy work environment for their staff. Studies suggest that doing so increases worker performance and productivity levels while reducing absenteeism, lowering worker's compensation claims, and improving insurance ratings. We develop and implement occupational health and safety courses, respiratory protection programs, and conduct effective training techniques that will increase workplace safety awareness and offer assurance to those who occupy your property.
Certifications
Certified Industrial Hygienist (CIH)

Certified Safety Professional (CSP)

Certified Hazardous Materials Manager (CHMM)
More
Certified Site Safety Manager

Council-Certified Microbial Consultant (CMC)

Certified Lead Inspector/Risk Assessor
More
Hillmann's Industrial Hygiene/Occupational Safety Programs:
Environmental Health & Safety Compliance
Air Quality
Asbestos Support
Lead Support
Emergency Response Planning
Respiratory Protection Programs
Personal Protective Equipment
Ergonomics
Exposure Assessments
Silica Exposure Monitoring
Silica OSHA Compliance Programs
Noise Exposure Evaluation & Control
Hazardous Waste & Wastewater
Hazardous Materials Management
Vapor Intrusion Delineation & Monitoring
---
Construction Site Safety
Hillmann Consulting performs construction site safety and code compliance on a variety of construction projects ranging from new buildings to interior fit-outs. Our professionals consult on OSHA, NYC DOB Chapter 33, FDNY, and DEP regulations to ensure a safer job site. Hillmann Consulting's inspectors are trained in recognizing hazards to prevent incidents involving workers and property.
Hillmann's on-site safety personnel add value to your project by:
Minimizing risk of accidents
Avoiding stop-work orders
Mitigating violating conditions
Conducting safety meetings
Enhancing subcontractor compliance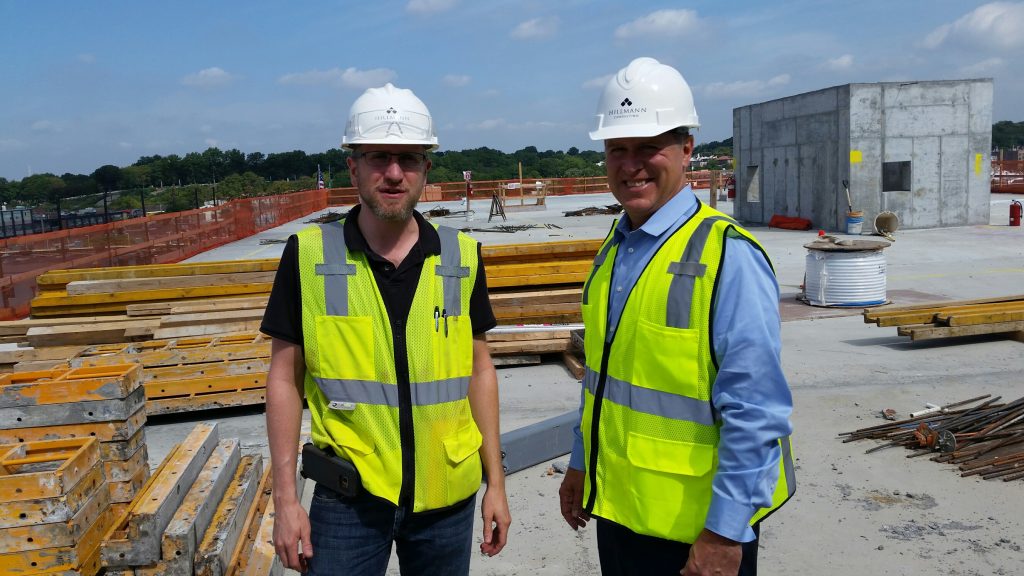 Respiratory Protection Programs
Hillmann Consulting can customize a respiratory protection program that conforms to your occupational needs. We also provide staff training and fit testing, and assist with implementation of the program. OSHA Standard 1910.134 requires employees who are required to wear respirators receive training on the proper use of that respirator.
Personal Protective Equipment
OSHA requires the use of personal protective equipment (PPE) to reduce employee exposure to hazards when engineering and administrative controls are not feasible or effective in reducing these exposures to acceptable levels. If PPE is necessary, we can design and help execute a PPE program to address the hazards present and assist your firm with the selection, maintenance, and proper use of PPE. Hillmann Consulting will also assist in training staff and monitoring the program to ensure its ongoing effectiveness.
Ergonomics
Hillmann offers ergonomic consulting services to help our clients improve productivity while ensuring that their employees are safe, comfortable, and less prone to work-related injuries. We will find the best fit between your staff and their job conditions including the proper way to lift heavy objects, position computers to help avoid carpel tunnel syndrome, and adjust the height of chairs for optimal positioning when seated. Small, simple changes such as these have the power to yield drastic results.
Exposure Assessments
We perform exposure assessments to evaluate any and all personal exposure to hazardous substances in the workplace such as asbestos, lead, silica dust, chemicals, and toxic waste. Exposure assessments consist of identifying potentially harmful variables that exist in the workplace through general observation, evaluation of control measures, and environmental sampling. The following factors will be taken into consideration in our assessments:
Characteristics of the facility to identify locations where exposure is most likely to occur
How the chemical substance is handled
Population of exposed workers
Work assignments of exposed workers
Physical properties of the chemical substance, to help identify what route of exposure is most important
Properties of the chemical substance, such as odor or irritation that might serve as a warning of unsuspected exposure and help to limit exposure
Quantitative measures of exposure (amounts, duration) and occupational exposure limits
Potential for accidental exposure
Engineering controls designed to isolate workers from exposure
Behavioral controls, such as the use of personal protective equipment
Silica Exposure Monitoring & OSHA Compliance Programs
Excessive exposure to respirable crystalline silica can cause silicosis, lung cancer, other respiratory diseases, and kidney disease. OSHA has issued a final rule to limit employee exposure to respirable crystalline silica. The rule is comprised of two standards: one for construction and one for general industry and maritime. The rule is expected to impact approximately two million construction workers who drill, cut, crush, or grind silica-containing materials such as concrete, block, and stone. We can perform an exposure assessment for your company to see whether or not you are in compliance with the new rule. Our team will thoroughly review your work methods, perform personal air monitoring, and suggest what engineering controls are necessary. We can create or advise in the creation of the required programs and keep your employees safe from silica dust exposure.
Download or view the Silica Resource Guide for Contractors
Download or view OSHA's Fact Sheet for Respirable Crystalline Silica
Noise Exposure Evaluation and Control
Companies whose workers are subjected to extreme noise levels must have an active hearing conservation program for protecting their employees' hearing. Noise-induced hearing loss is preventable when proper protection and suitable methods of control are used.
Hillmann Consulting can assist in designing a program that contains provisions for identifying and evaluating high noise exposures, controlling and reducing noise sources in the workplace, and protecting your employees on an ongoing basis.
Hazardous Materials Surveys & Management
The demolition of any structure requires the identification and removal of hazardous materials to prevent occupational exposure, as well as to ensure proper disposal of such materials. Hillmann Consulting performs hazardous materials (HazMat) surveys for pre-demolition, renovation and expansion projects. These investigations are typically performed for full floor or building demolition to locate, identify and quantify:
Asbestos-Containing Materials
Lead-Based Paint
EPA Classified Universal wastes which can include: Batteries | Chemical & Pesticides | Mercury-containing Equipment | Mercury Lamps
Radiation Sources: Exit Signs | Smoke Alarms
Polychlorinated Biphenyls (PCBs): Light Ballasts | Caulking Materials | Electrical Transformers | Soil
Ozone Depleting Substances: Chlorofluorocarbons | Refrigerants | Fuel
Fuel
The extensive survey provides property owners or developers with a complete inventory of hazardous waste that are common to a wide variety of structures. An accurate budget can then be forecasted for immediate demolition and abatement activities, and to avoid RCRA liability by securing proper disposal. It also ensures that building occupants and employees are safeguarded against potential environmental hazards during demolition and abatement.
Hillmann Consulting can provide development of Specifications and Bid Documents for an abatement program of any hazardous materials affected by proposed construction. We also conduct all necessary monitoring and coordination during the abatement process to insure compliance with the specifications and regulatory compliance with all NYC DOB, DEP and other relevant city, state, and federal requirements.