Mold Services
Certified Inspectors for Mold Testing, Air Sampling, and Control Programs
Hillmann Consulting provides comprehensive mold testing services to prevent mold issues stemming from water intrusion. Water intrusion is a cause for serious concern, especially when it has gone undetected for any length of time, and almost all buildings will experience it in some capacity during their life cycle such as excess indoor dampness, pipe leaks and flooding. We understand your concerns about mold and how it affects occupant health, insurance practices, and potential litigation. Our expert team of certified mold inspectors will test for the presence of mold through air sampling, locate any and all sources of hidden mold, identify areas contributing to water intrusion, and construct a thorough and precise mold control program.
Certifications
Certified Industrial Hygienist (CIH)

Council-Certified Microbial Investigator (CMI)

Council-Certified Microbial Consultant (CMC)
More
Council-Certified Indoor Environmentalist (CIE)

NYS Licensed Mold Assessors
More
Mold Services
Visual Investigations/Inspections
Sampling
Mold Intrusion Consulting and Remediation Oversight
Moisture Mapping and Thermal Imaging
Mold Remediation Plans & Scopes of Work
Post Remediation Clearance Inspections
Mold Awareness Training (2 Hour)
Mold and Moisture Control Programs
---
Hillmann Consulting, LLC maintains a team of ACAC-certified professionals.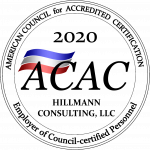 Mold and Moisture Control Programs
Hillmann Consulting formulates remediation strategies according to the situation at hand and the client's specific needs. Our approach to mold control and moisture control includes developing easy to follow guidelines, training key personnel in mold awareness, and periodic monitoring to ensure effectiveness. Preventative planning and anticipating issues such as microbial amplification and fungal infestation helps our clients complete their projects on time and within budget. By educating our clients about the potential health risks involved with ignoring microbial exposures, we help them avoid costly repairs or compromising the integrity of their property.
Water and Microbial Control During Construction
Building developers, general contractors, construction managers, and construction design professionals have become increasingly aware of the microbial-related problems that arise from water damage during construction. Hillmann Consulting has created extensive and detailed remediation programs to reduce the risk of liability, avoid costly repairs and protect against potential litigation due to property damage or personal injury attributed to microbial conditions caused by water intrusion during all stages of construction.
During the design phase, Hillmann Consulting offers prevention programs that focus on maintaining the integrity of the building's envelope through limiting moisture and water infiltration during construction. We will work with you to further develop a water control program once active construction commences, including unmitigated mold awareness training for all contracting personnel. Furthermore, we will establish a monitoring program which audits the daily activities and record keeping of construction personnel to ensure that the proper sequencing, coordinating, and protection of the work during construction is performed.