Site Investigation & Remediation
Environmental Assessment and Site Remediation Services
Hillmann Consulting maintains a specially trained team of professionals who are dedicated to investigating and assessing subsurface conditions and liabilities to provide cost effective, environmentally responsible solutions for our clients. Our multi-disciplined team of Certified Environmental Managers, Certified Remediation Specialists, Certified Hazardous Materials Managers, and Licensed Underground Storage Tank Closure Specialists is here to inspect and offer remedial solutions for construction site pollution and other environmental hazards.
Certifications
Professional Geologist (P.G.)

Certified Hazardous Materials Manager (CHMM)

Registered Environmental Manager (REM)
More
Registered Environmental Property Assessor (REPA)

Certified Environmental Manager (CEM)

Certified Remediation Specialist (CRS)

Licensed Site Remediation Professional (LSRP)

Certified Environmental Safety Compliance Officer (CESCO)

Certified Brownfield Professional for the NYC Office of Environmental Remediation
More
Site Investigation & Remediation Services:
Site Investigation & Remediation
Storm Wastewater Permitting, Compliance Monitoring, and Treatment Systems
Brownfield Redevelopment and NYC e-Designation
New Jersey License Site Remediation Professional (LSRP)
Soil & Groundwater Vapor Intrusion
UST/AST Decommissioning and Compliance
RCRA Compliance
SPCC Plan Development
Third Party Compliance Reviews
---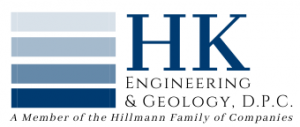 For services in New York State, we proudly offer Environmental Engineering services through HK Engineering & Geology, D.P.C.  HK Engineering & Geology, D.P.C. is part of the Hillmann family of companies.
---
Featured Project Profile
Hillmann provided site investigation and remediation services during redevelopment activities on a site located in the Bronx. The subject property is an NYC e-designated site as well as in the brownfield program and contains soil, groundwater, and soil-vapor contamination and is included in both NYC OER and New York State DEC spill databases. Hillmann prepared the initial Remedial Investigation Workplan for submittal and approval to the OER and DEC. Subsequently, Hillmann conducted remedial investigation activities on site to delineate the soil, groundwater, and soil-vapor contamination. A Remedial Investigation Report was prepared and submitted to the OER and DEC with the results of the investigation. Hillmann additionally prepared and submitted a Remedial Action Work Plan (RAWP) which was subsequently approved by the OER and DEC for remediation of the site contaminants during construction activities. During construction activities, Hillmann provided oversight and project management of the remedial action as well as instituted community dust and air monitoring. A closure report and site management plan was prepared at the completion of the project.
Brownfield Redevelopment and NYC e-designation
Hillmann Consulting, LLC provides professional services for brownfield and NYC e-designation sites. Our team will work with you on all aspects of your redevelopment project from initial site assessment and characterization through the management of remediation activities during site redevelopment to successful site closure.
---
Spill Prevention, Control, and Countermeasure Plan Development
Spill Prevention, Control, and Countermeasure (SPCC) Plans are required by the Environmental Protection Agency (EPA) for all owners and/or operators of facilities, such as office or commercial buildings, with storage quantities of non-transportation related oil. The purpose of the SPCC Plan is to avoid oil spills and minimize the impact of spills on the environment and public health. Our team has extensive knowledge and experience in developing SPCC Plans for a multitude of business owners/operators across the nation.
When is an SPCC Plan required?
What is considered a non-transportation oil?
What are the components of an SPCC Plan?
How often do existing SPCC Plans need to be updated?
Use our helpful infographic to answer your questions about SPCC Plans, and feel free to reach out to us if you have additional questions or need assistance creating or updating an SPCC Plan.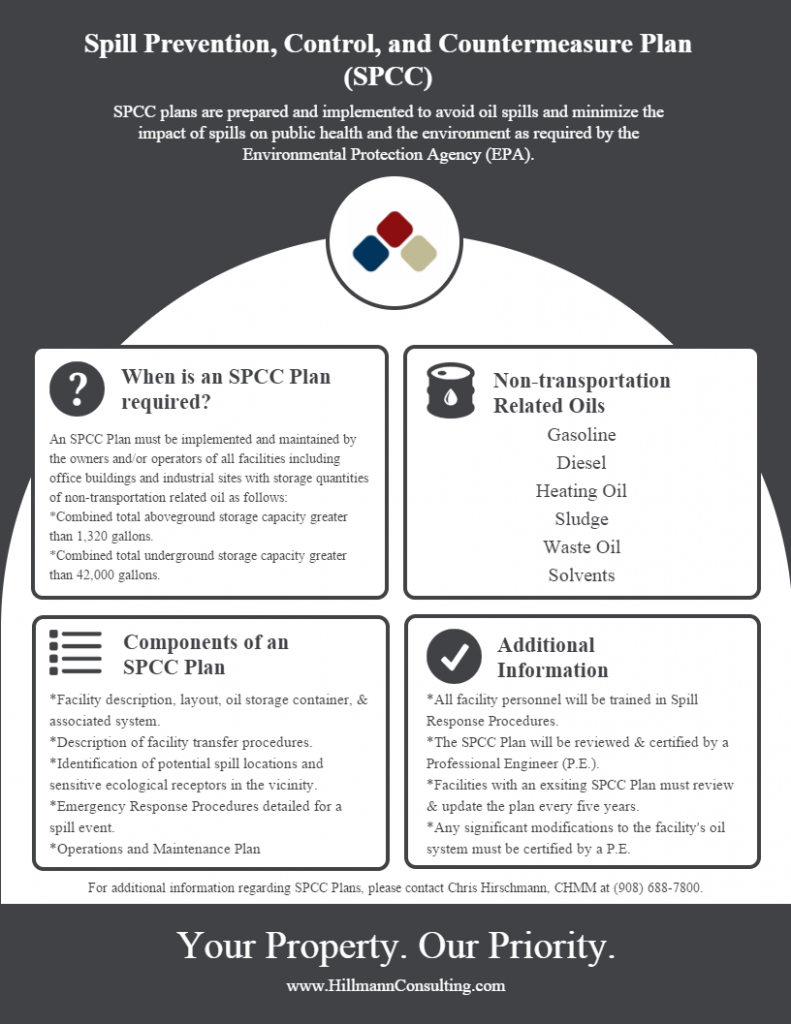 Site Investigation and Remediation
Hillmann provides Site Investigation and Remediation services for a variety of businesses and industrial facilities. Subsurface investigations are performed for property transfer due diligence or as required by local, state, or federal regulation. Our team will prepare an effective site investigation procedure including, but not limited to, communications with the regulatory agencies, preparation of a Remedial Investigation Workplan, investigatory field activities, collection, testing and analysis of soil and groundwater samples, and a report in the format required by any governing regulatory agency.
Hillmann will provide innovative, cost effective solutions for soil and groundwater remediation activities that meet any applicable regulatory requirements. Remedial activities for soil may include excavation, transportation, and disposal of contaminated soils at a licensed facility, in-situ remediation of impacted soil, engineering and administrative controls, or a combination of the methods. Groundwater treatment may include in-situ remediation, to include air sparging, chemical reduction, and other in-situ remediation technologies. In addition, hydraulic control and groundwater treatment may be completed with the use of pump and treat systems. Hillmann Consulting will manage the entire remediation process from the development of a Remedial Action Work Plan (RAWP) through issuance of a Remedial Action Report to complete and close out the project activities.
Storm Wastewater Permitting, Compliance Monitoring and Treatment Systems
Hillmann Consulting, LLC is experienced in conducting soil and groundwater sampling for permit compliance, maintaining treatment systems, and preparing permit applications and documentation. We have dedicated staff that specialize in geotechnical services and are equipped to handle the most complex permitting issues.
New Jersey Licensed Site Remediation Professional (LSRP)
On November 4, 2009, the Administrative Requirements for the Remediation of Contaminated Sites (ARRCA) Rule was promulgated. One of the provisions of the regulations establishes a program for the licensing of Licensed Site Remediation Professionals (LSRP) who will have responsibility for the oversight of environmental investigations and cleanups in the State of New Jersey without prior approval from the New Jersey Department of Environmental Protection (NJDEP). The most significant requirement of the ARRCA rule is that new cleanup cases in New Jersey are required to be completed through the use of an LSRP. The LSRP will manage onsite remediation and once the remediation is complete, close out cases with a Response Action Outcome (RAO) letter in place of the traditional No Further Action (NFA) letter from the NJDEP.
Hillmann is pleased to offer LSRP services to our clients. These regulations make it even more critical for our prospective and current client base to communicate their environmental concerns to our team.
Soil & Groundwater Vapor Intrusion
Vapor Intrusion can occur when volatile chemicals in buried wastes or contaminated groundwater emit vapors through subsurface soils and into the indoor air of overlying buildings. When this occurs, it often results in an indoor air quality problem. Soil gas and indoor air monitoring are usually conducted to determine the type and level of the chemical(s) involved.
Soil gas sampling is a highly effective tool used to identity subsurface contamination. When conducted properly, it can trace the source of the contamination, determine the extent of the contamination, and map the movement of the pollutant(s). Indoor air sampling in Vapor Intrusion studies collect parts per billion (ppb) level Volatile Organic Compounds (VOCs).
Hillmann Consulting, LLC has conducted countless Vapor Intrusion studies for clients across the US, many of which have properties in the most complex markets. Our expertise in this field helps to ensure the design of a proper delineation and monitoring plan for your most complex vapor intrusion issues.
UST/AST Decommissioning and Compliance
Hillmann Consulting, LLC has extensive experience in Underground Storage Tank (UST) Decommissioning. Decommissioning is known as properly locating, excavating, removing, and disposing of a UST. It involves the safe handling and subsequent destruction of the UST and also includes the crucial element of proper record keeping. UST decommissioning can be costly and dangerous if conducted by someone who is not appropriately qualified to perform this type of work.
At Hillmann Consulting, LLC, we have a dedicated team of seasoned professionals who routinely perform UST decommissioning services in some of the most heavily governed markets. We also have a Licensed Site Remediation Professional (LSRP) on staff to oversee UST decommissioning services being performed in the state of New Jersey. Helping you confirm whether or not there's a tank on your property and seeing you through the entire decommissioning process is one of our specialties.
RCRA Compliance
The Resource Conservation and Recovery Act (RCRA), an amendment to the Solid Waste Disposal Act, was enacted in 1976 to address the huge volumes of municipal and industrial solid and hazardous waste generated nationwide. The law places controls on the generation, transportation, treatment, storage and disposal of hazardous wastes, as well as establishing a framework for the management of non-hazardous waste.
The goals of RCRA are as follows:
Protect human health and the environment from the hazards posed by waste disposal;
Conserve energy and natural resources through waste recycling and recovery;
Reduce or eliminate, as expeditiously as possible, the amount of waste generated, including hazardous waste; and
Ensure that wastes are managed in a manner that is protective of human health and the environment.
Hillmann is experienced in providing services in accordance with RCRA Compliance to our clients. These services include soil and groundwater sampling and subsequent regulatory reporting.
Third Party Compliance Reviews
Hillmann Consulting performs a wide variety of Third Party Compliance Reviews for our clients. Our most notable Third Party Compliance Reviews include those performed on Phase I and Phase II Investigations, Remedial Investigation Workplans, and Remedial Investigations and Action Reports. We offer this service to our current and prospective clients to ensure regulatory compliance in addition to ensuring that the most appropriate and effective recommendations are being made with regard to a specific subject property. We act as an advocate for clients who utilize this service, helping them identify areas of concern that may not have been adequately addressed based on the information contained in the respective reports we review.