Site Investigation and Remediation News
On June 14, 2018, our Director of Site Investigation & Remediation Services, Chris Hirschmann, attended the grand opening of a recently completed project in East New York, Brooklyn. The building owner, Women in Need (WIN), provides supportive housing services for the homeless and their families. WIN's building is a welcomed addition to the community and will provide many valuable resources to those in need.
The property was enrolled in the NYC Voluntary Cleanup Program. Hillmann provided subsurface investigation and remediation services before and during construction of the new building. Our team investigated and classified the contamination onsite and developed a Remedial Action Workplan, which was approved by the City, to clean up the contamination. During the site redevelopment, we also managed the remedial activities. The onsite remediation achieved the highest/strictest regulatory track, earning it a Green Building Certification from the NYC Office of Environmental Remediation (OER).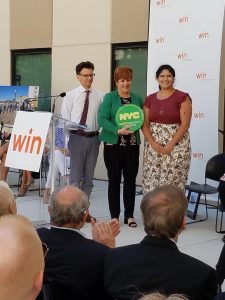 The photo here shows two representatives of the NYC OER presenting the Green Building Plaque to Christine Quinn, President/CEO of WIN. Congratulations to WIN on the successful completion of another noteworthy project in New York!
This project aligned perfectly with Hillmann's culture. We strive to make a better future for all the communities we touch and this project fell perfectly in line with our purpose. We're honored to have played a role in such an important community project in Brooklyn.
Your Property. Our Priority. | Since 1985